IPSC is our most active discipline with regular matches and events suitable for members at all skill levels:
Tuesday evening level 2 quality match

Book a time that suits you and shoot a 4 stage, 100+ round match with high-quality stages in an hour and a half, thanks to our innovative time slot format, a world first in IPSC!
Debrief in the clubhouse afterwards with hot food and cold drinks.
Supervision by NROI accredited range officers ensuring the highest levels of safety

Quarterly inter-club level 2 matches
Thursday evening advanced training with Master Grade competitors (for licensed members)
Saturday morning and afternoon matches
Elite level training classes run by National and World champions.
Home of Australia's best 180-degree range

Professional lighting compliant with Australian Sporting Standard AS2560
Electronic moving targets
Dedicated IPSC range with stages available for members to train on during the week.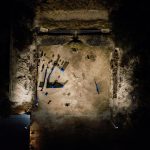 IPSC Development Program
All members who wish to participate in IPSC matches are required to complete a comprehensive safety and fundamental skills development program (IPDEV) and pass a strict evaluation.
NROI accredited Range Officers supervise evaluation and training sessions
Members completing IPDEV are eligible to become affiliated with IPSC Australia and compete at inter-club, state, national and international matches.
Come join Brisbane's most active IPSC Pistol Shooting Club Now! Find out more about becoming a member.